AGE ~ 4  Diagnosis – Down syndrome
Gryffin arrived at 38 weeks in a peaceful birth at home. We were completely unprepared for the news that Gryffin had Down syndrome – we didn't even know what this meant.
Gryffin arrived weak, jaundiced and unresponsive for the most part. Our family doctor had nothing to give us by way of a strategy, so we decided to research our own.     Because of our family's commitment to a natural lifestyle, we decided to investigate alternative therapy options for helping Gryffin boost his immune system and to stimulate his brain development. Once the research had begun, we were convinced that nutrition would play a large role in achieving long-term health. In seeking practitioner support, our paediatrician said 'Don't waste your money on Omega 3's, buy a big TV'. At this point, I knew we were on our own.
The first two years of Gryffin's life would see miracles unfold before our eyes. We put Gryffin on a broad range of Nutritional Supplements, Homeopathics and herbs. He had many NAET treatments and began to have regular Osteopathy adjustments to help with his growth and the formation of his face (this improved oxygen flow to the brain among other benefits).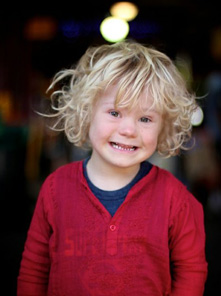 Gryffin did a Yoga program, specially devised for the 'special child', and we fed him wholesome, organic foods. Our pilgrimages to the Naturopath were bi-weekly, my research hours were long and the rewards were stunning.  By the time we found The Institutes For The Achievement of Human Potential, Gryffin was 10 months old. His health was excellent, his development was very good but we knew we could do even more. IAHP married together most of what I had already learnt and added even more tools for Gryffin to reach his goals. We immediately enrolled in the IAHP course.  By the time Gryffin was 3 years old, he was exceptional. His health was amazing, having had no illnesses of any kind other than a couple of nasty colds since birth. He was running, talking and had no behavioural, mobility, hearing or vision issues. Gryffin had been able to recognize words since 18 months and was enormous fun to be around!
It was around this time that I published Naturally Better and shared our story with the world.
At 4, Gryffin's progress continues and we could not be more proud or hopeful for his future.