AGE ~ 15 months  Diagnosis ~ Down syndrome
Zara was born at 38 weeks after a turbulent and long awaited pregnancy. Soon after birth, she developed hypothermia, became unresponsive and was admitted to Special Care where she was incubated, gastric fed and diagnosed with Down syndrome. All of this amidst an overwhelming sense of pity from hospital staff. One of the doctors spoke of "adopting out" our long awaited little girl.
In the first few months of life, Zara developed Meningitis (which lingered for 3 months), suffered a viral infection, compromised immunity, neurological complications and Infantile Sleep Apnoea. During sleep, Zara ceased to breathe on average 34 times an hour. Conventional medicine presented road blocks and negativity with advice that "unfortunately this sort of stuff happens and is to be expected with Down syndrome." We were assured that nothing can be done and – when we suggested alternatives, we were told we'd be wasting our time and money adopting such treatments. As parents, we were not convinced.
After discovering & reading Naturally Better and attending a weekend seminar with IAHP, the doors to an entirely new world opened up to us – one filled with positivity and hope. We began weekly Yoga sessions, Osteopathy and Swimming Classes. We attended IAHP's Brain Injured Child Course and began a nutritional supplement program. By the time Zara was 12 months old, her apnoea had reduced to 3 episodes an hour with her Specialist advising us to "continue on the path you have adopted, it's certainly having a positive effect. But I don't want to know the details…"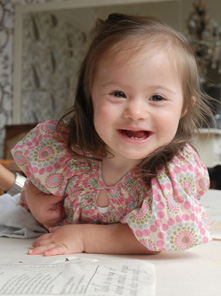 Her immunity was stronger, she was much more alert and responsive – as if the haze had been lifted.
Today, Zara is 15 months old. After a month of being on the IAHP home program, Zara is crawling in a cross pattern 100 meters per day (where beforehand she couldn't even crawl 1meter). She has begun to cruise and has 6 teeth; before the program she had none.  She is babbling heaps more, has 3 distinct words, is communicating positively through the 'choice board' and can recognise 29 words.
Zara is a very happy, healthy little girl. We are ecstatic. Thanks to Kristen Morrison and The Institutes for the Achievement of Human Potential, we have found the support, knowledge and confidence to ensure our Zara has all the opportunities that every parent longs for their child