AGE ~ 3   Diagnosis – Unknown
Winston was a normal, healthy little boy. 8 days after the birth of his younger brother, we woke to find him in a huge pool of sweat, having a convulsive seizure. This went on for 3 days, causing severe swelling to the brain. As if from a stroke, he was paralysed down his right side, couldn't eat, walk, talk etc, and still no one can tell us why this happened to Win.
Following the mainstream "white coats" for 12 months, Win learnt to walk, talk and eat. We were often told "You should be so happy with his progress, he is amazing" and don't get me wrong he was. BUT…. He couldn't use his right hand, he walked with a severe limp and only for very short distances, and rarely wanted to run. He wasn't talking anywhere near as well as his peers. I knew he could do more.
After reading Naturally Better and What To Do About Your Brain Injured Child, we started an IAHP program, trotted off to NAET treatments, reviewed his supplements and found an amazing chiropractor. We have de-toxified our home and are loving eating seasonal, fresh, organic food.
Taking the "alternative" route is not easy. Sadly, there is a lot of public uncertainty.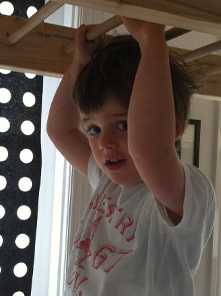 "Parents of sick children are very susceptible to scammers" said one trusted advisor.
4 months after starting the program, Winston could grasp items in his right hand. He picked me two flowers one with his right hand and one with his left. He could do a drawing by himself, could walk 2 km non-stop, had started to run and could climb the ladder at the park by himself. He wanted to use the slide!! Win could also use 5 or more words in a sentence. He had become really cheeky, "brighter and more alive" said a friend.
Win is now singing – complete songs! He never sang before. His ability for creative independent thought is also new. He asks so many questions – what, where, who?!
If these are the changes we can see in 6 months… imagine what we'll see in the next 6?